Fire suppression systems are the advanced early stage fire extinguishing automatic systems which are provided for server rooms and high-value equipment rooms.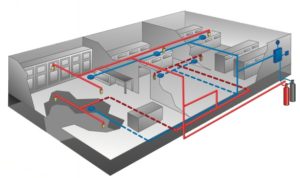 Carbon dioxide (CO2) flooding system. A fixed installation designed to displace the oxygen in the protected space and thus extinguish the fire, usually used to fight fires in engine rooms, boiler rooms and pump rooms. The system normally consists of a series of large CO2 cylinders.
The main advantage of FM200 fire suppression is the small amount of agent required to suppress a fire. FM200 systems reach extinguishing levels in 10 seconds or less, stopping ordinary combustible, electrical, and flammable liquid fires before they cause significant damage.
NAFS 125 Fire Suppression
NAFS 125 clean agent fire suppression system which required 20% less agent than FM 200 is save for people and environment, its ozone depletion potential is 0. It protects the electrical system and having a unique lemon type smell to alert.
INERGEN is a highly effective fire suppression system for extinguishing fire & preventing re-ignition with no risk to people or damage to equipment if engineered and installed by a qualified fire suppression systems installation company.
Electric Panel Suppression
Electrical panel suppression systems use the detection tubing which is installed throughout the enclosure and connected to the cylinder valve. The tubing is then charged with nitrogen and this pressure is utilized to hold back the extinguishant in the cylinder. Should a high temperature or fire occur then the pressurized tubing will burst and the extinguishant will be deployed directly from the burst hole onto the fire.
DSPA Fire Suppression System
DSPA offers detection and extinguishing system which can detect a fire at the very early stage and extinguish the fire in just a few seconds. The main advantages are easy to install, easy to maintain, very efficient, highly safe, cost-efficient, does not affect oxygen levels, non-corrosive, non-conductive, environment-friendly and not harmful to humans or animals.
Please Fill Out The Contact Form And We'll Get Back To You As Soon As Possible. You Can Also Call Us At 88888-80567